The Underground Games Company is totally stoked about getting TRAFFICKING back into circulation! The classic game hasn't changed and we are seriously grateful for the awesome support TRAFFICKING fans have given us spaced earthlings since day one.
Thank you and enjoy!
Order Information

Order safely and securely through PayPal:
Trafficking Board Game - Domestic Shipping (US)

TRAFFICKING board game:

$ 39.99 each

shipping:

$ FREE !
Trafficking Board Game - Canada Shipping

TRAFFICKING board game:

$ 39.99 each

shipping:

$ 20.00 (per game)
Trafficking Board Game - International Shipping

TRAFFICKING board game:

$ 39.99 each

shipping:

$ 40.00 (per game)
View PayPal Cart -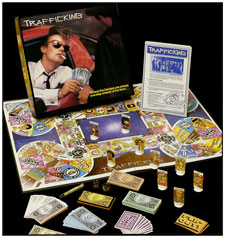 TRAFFICKING board game: $ 39.99

30 Day Full Refund
Guarantee